Fareham
Fareham provides a unique opportunity to explore a rich heritage of both maritime and national history, peaceful woodland walks, conservation areas, plus an attractive safe coastline.
North of the marinas on your port side as you enter Portsmouth Harbour, and the docks on your starboard side, is Fareham Lake. Further north are Bomb Ketch Lake and Spider Lake on your starboard side, then a couple of southerly cardinal marks which need to be left to starboard. From now on the channel is marked by piles. Bedenham Pier, on your port side, should not be approached closer than 12m. The channel is lit as far as Foxbury Point.
Anyone planning to push on up to Fareham must take note of the overhead electricity cables, which cross the channel from Cams Hall Golf Course across to Fareham Reach, and only have a safe clearance of 16m at M ean High Water Springs. Close to Fareham depths rapidly shallow out in the channel.
WicorMarine Yacht Haven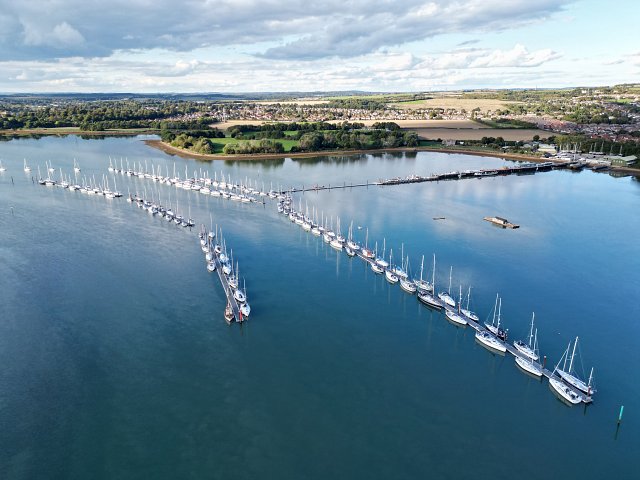 WicorMarine Yacht Haven - situated to the north of Bedenham Pier, and only a half-hour from the harbour entrance, is a family owned and operated marina offering a variety of deep water, walk-ashore or mid-river pontoons, swinging moorings, and storage ashore, as well as competitive rates for a mid-season scrub and short-term storage. It boasts the wonderful licensed café, SALT, a well-stocked chandlery and can offer kayak hire and luxury off grid accommodation. A number of marine trades are on site to deal with repairs and maintenance. Visitors are welcome.
Contact: WicorMarine Yacht Haven, Cranleigh Road, Portchester, Fareham, PO16 9DR. Tel: 01329 237112. Email: inbox@wicormarine.com Website: wicormarine.co.uk
Portsmouth Marine Engineering
Portsmouth Marine Engineering – Continuing onwards from WicorMarine Yacht Haven, and after the sailing club you will pass, on your port side, a yard run by Portsmouth Marine Engineering with around 130 pontoon berths, some with electricity. Shower and toilet facilities are available. They can offer temporary visitors' berths subject to availability. There is limited storage in the yard for smaller craft.
Contact: Portsmouth Marine Engineering (VRS Holdings Ltd), Lower Quay, Fareham, PO16 0RJ. Tel: 01329 232854. Email: info@portsmouthmarine.co.uk
Please note, this information is to be used as a guide only and not for navigation.